A small group of my close friends planned a trip to Miami for my friend's 26th birthday. It was a really last minute thing, but I think my friend Ariel did a wonderful job at planning our vacation for her birthday. We left really early on Friday January 23, a 5:45 AM flight, so we could have the whole day. Unfortunately, the regular check-in time at the hotel we were staying at was 4 PM.
We chose to stay at The Sagamore, the "Art Hotel." Since our room wasn't ready yet, we checked our bags and went straight to the pool of the hotel. The public areas of the hotel were amazing. The lobby is a very modern and bright open room with couches and interesting art. As you walk through the first floor of the hotel, you first come to the bar. We never visited the bar because there were so many other places we wanted to go, however it looked like a cool place to get a quick drink before going out on the town in Miami. Next to the bar, there was this small side room that is like an interactive art gallery lounge, that could be a nice place to do some work or have an intimate conversation. As you keep walking through the hotel, you get to a small dining area at the end of the hotel. There is a large dining table indoors next to the kitchen, and small patio tables and chairs right outside on a covered deck area. We never ate at the hotel or ordered room service so I have no idea how their food is.
You walk down a couple of steps and you enter a tranquil garden with several semi private areas with couches for lounging and talking in small groups. The back of the hotel is so green and plush with palm trees, green bushes for privacy, and beautiful vines growing on the balconies of the hotel. As you walk through the garden patio area, you get to the pool area at the back of the hotel. You can go straight to the beach from the back gate of the hotel, but you wouldn't even need to leave the pool area if you didn't want to at The Sagamore. The pool was perfect for my friend who doesn't swim. It is a beach entry pool that starts from 0 FT and gradually gets to 5 FT deep. The pool area offered around two dozen lounge chairs and even had sandy areas to make it seem more like your right on the beach. There is a fully stocked bar right by the pool, and you'll read later why I love the bartender that works there.
The hotel gave us keys to access the pool and the beach, so since we were too early to go to our room we chilled on the beach until they called my cell at around 1 PM to let me know our room was ready.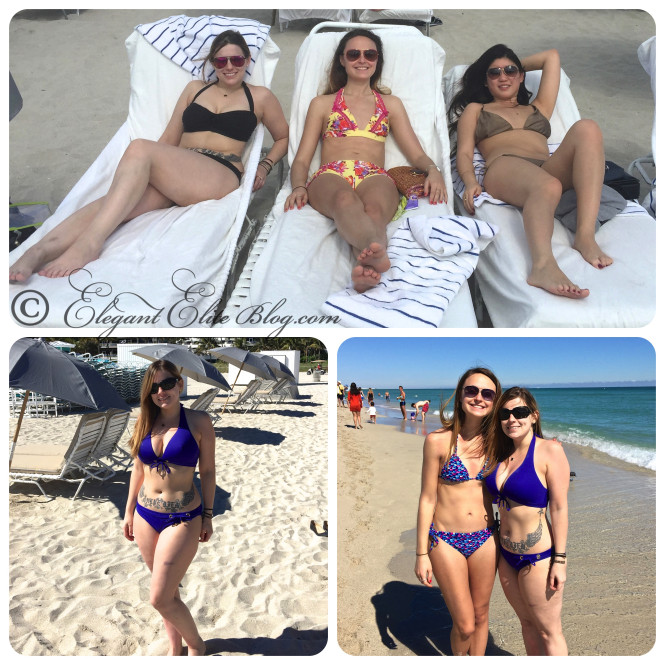 The four of us split a room, a king suite with spa bath. I thought the rooms where as expected for the price. The linens were clean and the bathrooms were clean. The floors and baseboards could have used more "attention," and the furniture was outdated. The nightstands had several chips on them, and white the leather couches were really worn. Two of my friends were really sketched out by the couch. It was a white pull out couch in a humid environment, and the metal had rusted a bit, which created these yellow stains on the bottom of the cushions. When one of my friends saw that, she outright refused to sit on the couch through the entire vacation. I was personally fine, because that meant that I had the pull out couch all to myself and three of my friends slept on the king bed together.
After we changed, we ate lunch at this wonderful restaurant called Yard Bird. It's a rustic southern style restaurant that had fried chicken and biscuit sandwiches, very cheesy mac and cheese, a cheddar waffle, bacon French fries, and great drinks. I highly recommend it to anyone who loves comfort food.
After eating, we walked around the area of our hotel for a bit. There is great shopping all over Lincoln Road. It was really easy to blow my Miami budget with all the great restaurants, bars and shopping right near our hotel. We then went back to the hotel to change and get ready for dinner.
We ate dinner at this place called The Bazaar by Jose Andres, and it was mind blowing! All our other dinners were pathetic in comparison so I wish we had saved this place for last. Even the drinks were amazing! My friend had drink that had cotton candy in it, and when the poured the liquor, it melted the cotton candy. They have a Thai street food appetizer that is so amazing you must try it!
After dinner, we all decided to go clubbing at LIV. A promoter that approached us on the street got us in, but it turned out that they never had a table. So we ventured off to find these wonderful British men that were very friendly and accommodating. They explained the next day why they were so nice. Miami is different because clubs have a huge minimum spending limit ($6,000 for a table). Where as in London and NYC, the clubs have small or more reasonable spending limits so you end up going over the limit and spending more. They said they felt pressured to get drunk this way and it was slightly uncomfortable. I ended up leaving a bit early, but my friends came back at 4 AM.
The next morning was a bit rough, but I walked to the corner store and got coconut water and Gatorade for everyone. It was a bit overcast and chilly that day, and it had even rained a bit in the morning, but we were determined to have fun. After our stomachs got back to normal, we ate lunch at the place we had reservations for, which happened to be sushi. However, it was so good, that you forgot that you were hung over. Miso soup probably helped a bit too.
After lunch, we met up with the British boys (they were really men, married men actually) at the Hyde Beach pool party. This was my favorite part of the weekend. Tons of liquor, hot bottle girls, champagne showers, a beautiful pool, sandy areas around the pool to dance around, and lots of beautiful people to party with.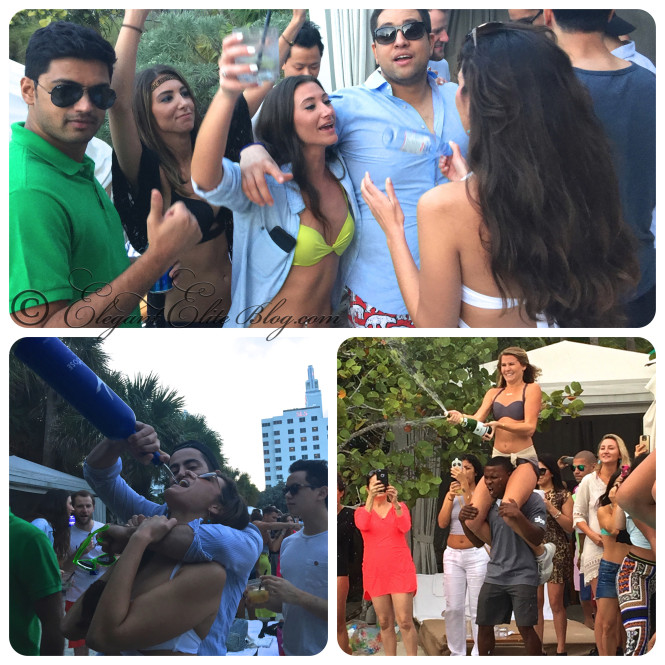 Unfortunately the sun went down eventually and the pool party ended. We then left to change and get ready for dinner. We were all really exhausted from our night out and really early flight. Ariel ended up passing out for a bit, and she said it made her exhaustion much worse.
We changed our dinner plans to go to this more trendy place called Eighteen Twenty Six. It was awful. First of all, we booked the reservation on the previous day, and we still were asked to wait at the bar, which was two floors up by the way. When we got to the bar floor, we stood around by the elevator to wait for the hostess to come get us when our table was ready. There was a couch by the elevator and my friends were all exhausted so one of us sat down. As soon as my friend sat down, this relatively older woman, in her 40s, rudely asked us what we were doing there. I responded that we had a reservation for the restaurant and they sent us upstairs to the bar. She then replied that this table is reserved and we would have to move. Mind you, only one of us was sitting, and she had promptly gotten up by the time she had asked her second question. The waitress obviously didn't even want us standing near "her" table, which she was guarding like a lioness. We moved closer to the bar to make her happy. After a while, a man who called himself the manager introduced himself to us. He expedited the process of getting our table, and made sure we were seated. We had been waiting for 30 mins already and I started to wonder to myself, if we hadn't been a group of attractive young women would we have gotten a table? Probably not at this restaurant. The dinner was mediocre and my friend Ariel, who had taken a nap earlier, was so tired and unimpressed by the dinner that she left to go to bed at the hotel.
Amanda, Catherine and I muddled through our mediocre dinner and went upstairs to the bar area of the restaurant. It was only 12:30 AM and there was already confetti on the floor of the bar. As my friend Catherine put it perfectly, this is "wannabe" trendy restaurant. Amanda had made friends with the man who calls himself the manager, and he heard we didn't really like our dinner and bought us each a drink. We ordered two very simple drinks, a Disaronno ginger and a Jack and ginger. Not only did the bartender not know what Disaronno was, the bar didn't have it. They made my drink with some other cheep house amaretto. Our drinks that where made with house liquor were so strong, they were undrinkable. After ten minutes, we asked the man who calls himself the manager to walk us into a club called Mynt Lounge. After we all got in and he said hello to some guys at the door, he said that he had to finish up a few more things at the restaurant and he would meet up with us later. Fine by me, but it was a bit weird that he left so quickly.
By that time, my ankle was swollen pretty badly and I could barely stand in my heels. I was leaning on a couch, but we didn't have a table to sit at and I was having a hard time standing even with the couch as support. We all went back to the hotel because my ankle was killing me and Ariel was too tired to come back out. We all passed out relatively early.
The next day, we wanted to have a quick breakfast before heading to our last day on the beach. We ate at a place called Dolce Italian, and it was a pretty horrid experience. First we ordered drinks, I got the juice, which was advertised as fresh juice, and it was bottled. He had already opened it and poured it out, but my friend asked to replace hers because they misrepresented the product. Then the waiter broke a glass, and it took him 20 mins to clean it up. When we finally ordered, 30 mins into the breakfast, we ordered 3 entrees and 2 sides. Seemed simple enough for 3 people. However, it took them 30 mins to get our food out, and we were missing the two sides. I had asked for the check WITH the food because we were in a rush, and of course no check. When we got the check it had the two missing items on it. I asked for them to change the bill and our waiter said sure, but did not take the check. After we were done with our food, and the check was still not adjusted, I flagged over another waiter and asked him for the manager and to change the check. He took the check and was way more efficient than the other waiter, and when strait to our waiter and told him our problem. Our waiter looked not only unconcerned, but also confused, pointing over to our table and scratching his head while shaking his head. When the manager finally came over, he did not bring the adjusted check, he brought our missing items. I was furious. I told him that we wanted the correct check and we wanted to get out of there. He apologized, the FIRST and only apology we ever got, and then took the check to correct it. We finally paid for the food we got, even though we thought about just walking out several times, and left the restaurant. PS. Gratuity was included at %18. Awful, just awful.
It was so late by the time we left the restaurant we didn't have that much time for the beach. I went back to the hotel earlier to pack up my gigantic, and overweight, bag that I brought. We packed, but left our airplane clothes on top in our bags and dressed in pool clothes for our last day. We checked our bags at the hotel and checked out of the hotel, but we weren't ready to leave Miami!!
We went to the Shore Club for their pool party event. It wasn't as much of a party as the Hyde Beach Event. Most of the people there were hotel guests, but there were a few party people with green wristbands that meant they weren't from the hotel. I wish we could have stayed longer, but we had Ariel's birthday lunch to go to.
We met up with two of Ariel's friends from college that happened to be in Boca Raton for a wedding, and ate lunch together for Ariel's birthday. We went to the Matador Room, and it was really good! Ariel and I shared the black truffle and fontina cheese pizza, and it was so rich and decadent. There was so much ground truffle on it that the pizza was mostly brown. It just melts in your mouth and has such a surge of flavor!
After lunch, my ankle was shot so I took a cab to the hotel and rested until we needed to take our flight back to NYC aka reality. It was very sad to be leaving and we all had a really great time. I recommend Miami to anyone and I am definitely going back!