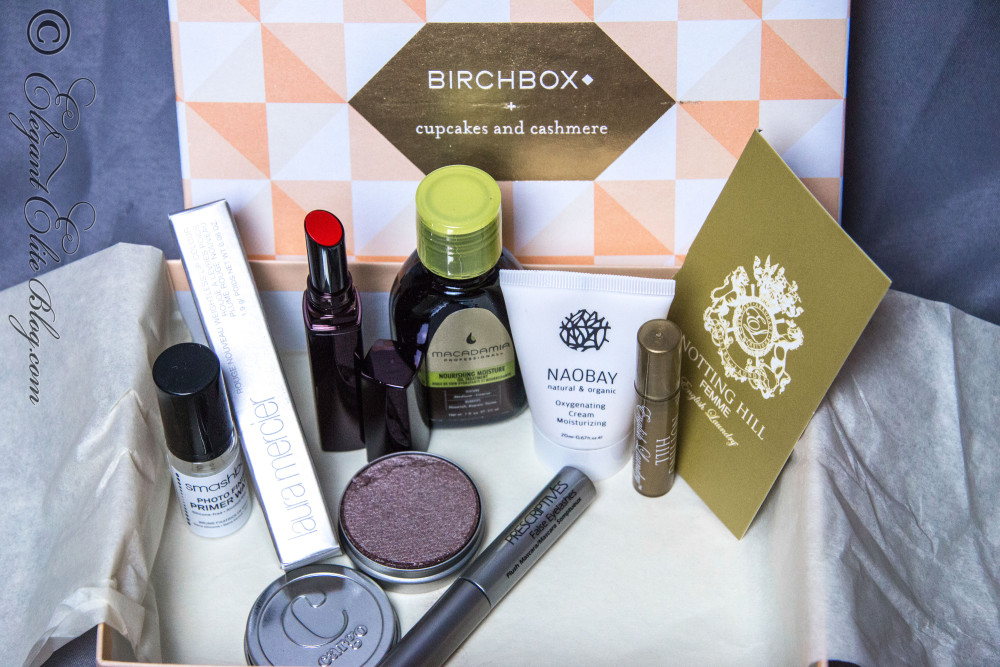 Today I opened my May Birchbox which I got in the mail a couple of days ago, but I've been unpacking from Vegas and haven't had the time to open the box. Don't worry, there will be a post about Vegas! Just in a few days because there's so much to say!
To be perfectly honest, I was not that impressed with my Birchbox this month. The English Laundry Notting Hill Femme perfume is way to strong for me…and honestly made me a little sick to my stomach when I first put it on. I have actually purchased the Prescriptives False Eyelashes Plush Mascara before many years ago, and I didn't love the formula then. Unless they have changed something about this Mascara, I will probably throw it out. The Cargo Eye Shadow in Yukon was broken when I received it and scattered all over the floor when I opened it. The Naobay oxygenating cream moisturizer doesn't seem to be anything special to me, just a regular moisturizer.
However, I'm still looking forward to trying the Smashbox Photo Finish Primer Water, the Laura Mercier Rouge Nouveau weightless lip colour, and the Macadamia Professional Nourishing Moisture oil treatment. The Laura Mercier lipstick looks like an amazing color!
*Two of the products in my upgraded Birchbox were full size products: the Cargo eye shadow in Yukon and the Laura Mercier Rouge Nouveau weightless lip colour.